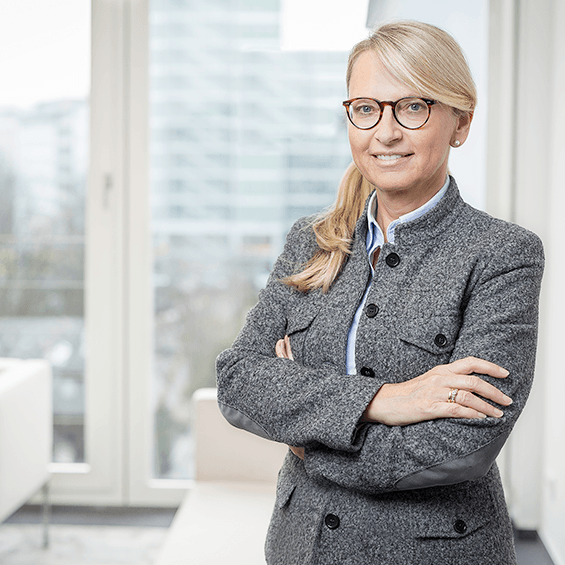 Susanne Schröder
Managing Director, Partner, Attorney-at-Law, Specialist in Labour and Employment Law, Lecturer in Business Law at the Bavarian University of Economics (HDBW)
Focus of Activities
Sussane Schröder has been advising and representing international and national clients in all areas of individual and collective employment law for over 20 years. She also conducts seminars and in-house training in this area. She specialises in the labour law implementation required in the context of company restructuring and transfers of businesses as well as the representation of board members, managing directors and executive employees.
For many years, it has also focused on renewable energies. She advises our clients on drafting contracts and issues relating to the construction and operation of plants for generating electricity from renewable sources, particularly in the field of photovoltaics.
Education / Career
Susanne Schröder completed her studies and legal clerkship in Münster. She was admitted to the bar in 1994 and has been a specialist lawyer for labour law since 2000. She first worked as a legal assistant at the Gesamtverband der Arbeitgeber Südhessens e.V. in Darmstadt and then for many years in a law firm specialising in the field of employment law and operating in the field of New Energy before changing to our law firm.
Send message directly
english
french
Focus on international labour and employment law and social security law
Competences in representation in judicial and extrajudicial proceedings
Author of specialist publications
Lecturer in labour and employment law and contract law with an international focus
Sector competence renewable energy
Lecturer at the Spring Meeting of the ABA Section International Law in New York on the topic "Renewable Energy – Legal Framework Comparison: U.S. vs. the Rest of the world"
Lawyer of confidence Austrian Foreign Trade Centre Munich/Advantage Austria (WKO)